American Cancer Society - Shoot Out Cancer Event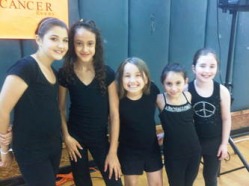 Shoot Out Cancer is an new organization created by Cancer Survivor, Angie Davis. Shoot out cancer is a basketball fundraiser that benefits local cancer patients. The organization focuses on giving these individuals and their families much needed financial and emotional support. The Dance Space was asked to be the entertainment at this event. Our dancers showcased their talents and dedication to dance! We danced to find a cure!

"We could not thank you guys enough for your support with our event. The girls were great- it was like we had the young version of the NBA team dancers. Thanks for being a part of it, your donation from Panera (they loved the pastries) and your generous check. It is people like you that will help us reach our mission of changing lives. Love you guys!" Angie, Brian and Aaron Davis

The Dance Space was able to convince Panera Bread of East Meadow to donate freshly baked cookies, pastries and breads to this event. Panera Bread's General Manager David Berkovits said be "was so pleased to donate to this wonderful organization." He also added how impressed he was that The Dance Space co-owner, Lauren Quaranta took the time to help the Shoot Our Cancer organization.

Thank you to all for making this such a wonderful event!

---