Annie Production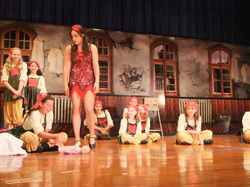 May 15th 2011 The Dance Space Broadway classes put on our rendition of Annie! Great job to all! Our ACTORS and DANCERS WOWED the audience!


The Broadway Experience
Do you want to be feared at auditions but respected by your fellow performers? If you want to be the next triple threat, then this is the class for you! This class focuses on the three key elements to being the ultimate performer: Acting, Singing, and Dancing. Students will receive "The Broadway Experience" by learning all the elements of musical theatre such as stagecraft, voicework, choreography and much more! An education on this form of theatre is communicated through words, movement, and the technical aspects of entertainment as a whole. Levels beginner to advanced.
---