Welcome RAIDERS!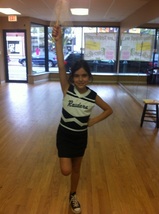 Amanda L.
We are proud to announce that The East Rockaway Cheer Squad came to the studio Saturday, September 29th for a workshop. The girls did a warm up, learned new cheers and learned a Half Time Routine courtesy of The Dance Space. The teacher of the workshop, Miss Toni was very impressed with the ladies! And the RAIDERS LOVED the class!

One of the Cheerleaders even received the SPIRIT STICK!
Pictured to the left!

---
Please read the wonderful comment below, look at the videos and the pictures!!

THE REVIEWS ARE IN!
"A huge thank you to Toni Carlo and Lauren Quaranta Berkovits of The Dance Space from The East Rockaway Raiders Cheerleaders for the Raider's Cheer Workshop!!! It was a huge success. The girls had a great time and learned a terrific Cheer Dance. Thanks Dance Space, you guys are the BEST!!! "

Lisa Murello, Cheer Squad Mom Leader