East Rockaway's Oktoberfest October 24, 2009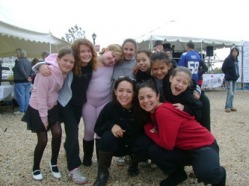 The Dance Space Dancers were so honored to perform at East Rockaway's Oktoberfest! Our dancers showcased a beautiful ballet and an energetic tap number! The audience was so impressed with the dancers and gave our dancers a standing ovation! Wow great job girls! As always we are so proud of you!

All proceeds to benefit Club Rock. Club Rock is a non-profit organization comprised of parents and community members, most having children involved in school athletics. Their main goal is to provide supplemental funding, when needed, for ERHS athletic programs. In the past they have helped purchase team uniforms, equipment, basketball backboards in the new gym, and provided scholarships to graduates. They are currently in the process of ordering a new flagpole for the back of the high school, among other projects.

---